Studio Tour
Blue Moon Yoga & Fitness is truly a one-of-a-kind studio with features that simply do not exist in any other studio in the area. We take pride in providing a state of the art studio environment which was designed with incredible attention to detail. As the studio was being constructed we took into consideration all the features that we would personally would want in a yoga studio and we know you will love the result.
Why HOT? We have INFRARED HOT YOGA! What is INFRARED heat?
Infrared rays are often referred to as "happy rays". Infrared heat stimulates the release of endorphins, "the happy hormones," in our brain. That is one of the reasons we love being in the sun so much.
How does INFRARED heat work?
When infrared waves penetrate water, (our body contains 60% - 70% water) the water molecules begin to vibrate, reducing the ion bonds between them and thus decreasing the size of water clusters.This gives them greater mobility to carry toxins trapped in the cells and expel the toxins through the lymph system out of the body.

Infrared waves penetrate tissue, triggering the mobilization of chemicals from fat stored under the skin directly into the sweat. After about 20 minutes the increased body heat starts releasing stored fat.

Photons emitted by infrared waves help release enzymes which increase the elimination of damaged and diseased tissues. During this process nitric oxide is released, which expands capillaries and increases circulation, carrying toxins to the lymph system and out of the body. Nitric oxide improves heart function through better blood circulation and lowers blood pressure.

Exercise itself assists the body to mobilize toxins, but infrared heat accelerates this process immensely.

Infrared heat works from under the skin. Thus, there is no need for extreme temperature in the studio. Infrared waves penetrate the body by 1.5 to 2 " and heat you from the inside out.

Toxins in our food and environment greatly contribute to premature aging, obesity, low energy levels, cancer, low immunity, depression, insomnia, and many other damaging conditions. Infrared heat easily removes stored toxins from your body and helps reduce cellulite. It will also rejuvenate your skin. You will look and feel younger.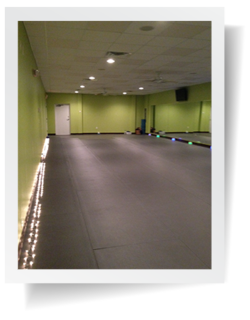 Zebra Mat Flooring
Zebra Mat flooring is known for its use throughout the world and preferred by the World's Elite Training Facilities and Athletes!
The 1/2" mat was developed specifically to meet the needs of yoga. The Tatami textured surface offers superior traction allowing you to feel in control no matter what position you are in. The mats are easily cleaned after every class, are anti-microbial, absorbing nothing and never smell of the funky odder typical to most yoga studios.
Two separate practice studios
Blue Moon features two separate practice rooms both featuring the zebra mat flooring and exhaust systems.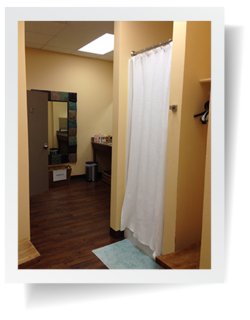 Beautiful bath facilities save you time and you don't have to sacrifice your workout!
Some of our clients prefer to clean up at the studio right after class and don't have time to run home. Therefore we have built in bath facilities to meet the needs of a busy schedule.

For The Women: We have women's showers 3 each. Women's toilet stalls 3 each. Women's sinks 3 each. Lockers are available.

For the Men: We have men's showers 2 each. Men's toilet stalls 2 each. Men's sinks 2 each.
Truly fresh air for those jam-packed classes!
Our studios are equipped with giant exhaust air handlers which can pump in fresh air from the outside and remove and replace all of the "used " air from a class in the studio in less than 10 minutes. Fresh air means the room never smells like the last class. Fresh air pumped in at one end and rolled across the floor as it travels to the exhaust port at the opposite end of the studio becomes ionized and ionized air through scientific analysis is shown to stimulate endorphins the "Happy Hormones " in our brain. Besides breathing fresh air ( not stinky air ) we feel good !!!
Come prepared to sweat, be challenged, laugh, and feel great. Bring a yoga mat, beach-sized towel and water. We also have these items for $1 each at the studio.